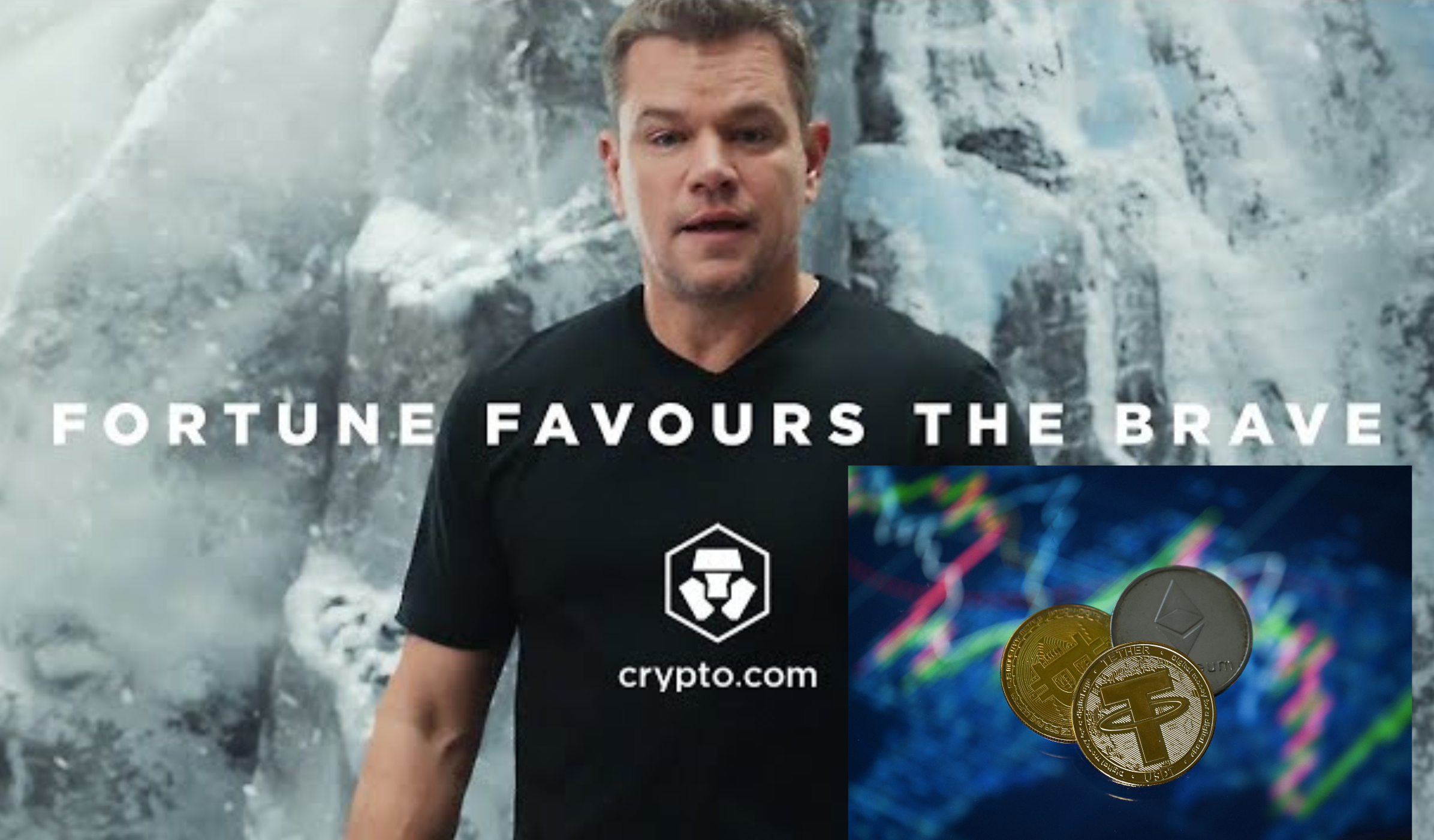 People who were convinced to invest money into Bitcoin or other cryptocurrencies by ads featuring Matt Damon will have substantially less now than the day they invested.
From its near-record high around the time of Damon's famous "fortune favors the brave" Crypto.com ad, the price of Bitcoin and other cryptocurrencies has slumped and reached a low not seen since December 2020. On Monday, dropped below the $23,000 mark for the first time in years. Bitcoin's decline has had an impact on other cryptocurrencies with the likes of Ethereum, tether, BNB, Dogecoin and Cardano all facing gradual declines.
Celebrities endorsing cryptocurrencies is a new phenomenon, but one that has gained momentum with famous people like Damon, Kim Kardashian, Jake Paul and, most notably, Elon Musk all supporting the concept.
Damon's appearance in the Crypto.com ad in October 2021 was seen as a turning point for cryptocurrency as a whole, debuting with a flashy advertisement that aired on television and online.
The value of Bitcoin and other major cryptocurrencies have faced a gradual decline since then, and anyone who was convinced to invest by Damon will be cursing their decisions today.
Here's how much an investor will have lost since Damon promoted the cryptocurrency exchange company, Crypto.com.
How much has Bitcoin dropped since Matt Damon promoted it?
Damon's Crypto.com ad aired for the first time on October 28, 2021 when the price of Bitcoin was $60,622.14. At that point in time, Bitcoin also had a total market cap of $1.14 trillion.
While there was a slight increase in its value in the days following the release of the ad, the current price of Bitcoin is a shell of its former self. As of Tuesday June 14, it is worth $22,404.78. The current market cap stands at $68.02 billion.
Anyone who invested on the day Damon's ad launched and held on to their investment for all this time, will have seen a loss of 63.04 percent. Anyone wanting to return to the full value of their initial investment would need the price of Bitcoin to increase by 170.58 percent.
To put this in context, if you invested $1,000 in Bitcoin on October 28, 2021 and didn't touch the investment from there, that Bitcoin would now be worth $369.80.
Writer Jon Schwarz was one of the first to point out the fall from grace on Twitter, as his assessment got over 30,000 likes, comments and retweets.
People responded with memes mocking Damon and the ad, while some even pointed out that South Park had already parodied the ad.
Matt Stone and Trey Parker (the creators of South Park) aren't the only ones to rip into Damon. Even Stephen Colbert and The Late Show staff ripped into him by creating an "updated version" of the Crypto.com ad.
Other celebrities affecting crypto
Damon isn't the only one to be accused of affecting the value of cryptocurrencies.
Elon Musk's appearance on Saturday Night Live didn't have the desired effect for his currency of choice, Dogecoin. During a sketch on Weekend Update where Musk's character admitted cryptocurrency was "a scam," the price of Dogecoin dropped by 40 percent in the following hours.
Some celebrities have also been sued for their involvement in the promotion of various cryptocurrencies. In January, Kim Kardashian and Floyd Mayweather were named in a class-action lawsuit and accused of using their fame to promote EthereumMax which was allegedly part of a larger scheme to fraud investors.
Another lawsuit was made against celebrities promoting the cryptocurrency Safemoon. This included the likes of Jake Paul, Soulja Boy, Lil Yachty and Nick Carter.
Dozens of celebrities are now also involved in promoting NFTs with the likes of Brie Larson, Jimmy Fallon, Serena Williams, Ozzy Osbourne and Reese Witherspoon all taking part.