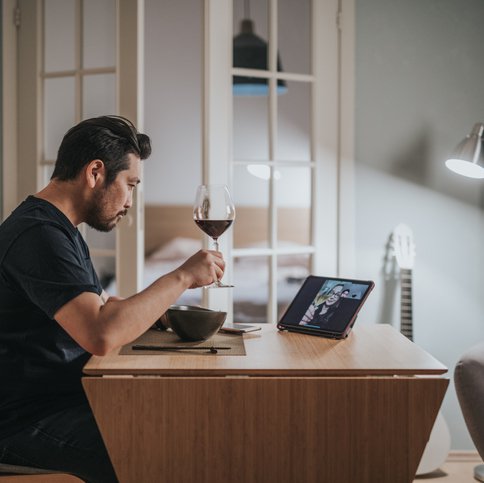 Before you pop the cork on a wine NFT, make sure you know what you're buying.
---
Key points
Wine NFTs promise a guarantee of authenticity and provenance, and can also give additional benefits such as tasting experiences and storage.
It is early days and there's a lot we don't know about how this market will develop.
If you're not an existing wine investor, be extremely cautious about buying a wine NFT.
---
As NFTs soared in popularity last year, they got adopted by a number of industries, including art, sports, music, and more. It's hardly surprising to learn that the high-end wine market has joined the NFT party. They promise a more secure, more transparent way for wine investors to purchase top quality tipples.
From established names in the wine industry such as Penfolds and Chateau Angelus to celebrity names such as Sarah Jessica Parker's Invivo X and basketball superstar Yao Ming's Yao Family Wines, many say wine NFTs are the next big thing. But should you be raising a glass to wine NFTs? Or are they just a gimmick designed to attract new investors? Read on to find out.
What are wine NFTs?
NFTs, or non-fungible tokens to give them their full name, are a type of certificate of digital ownership. Wine NFTs are usually asset-backed NFTs, which means the token on the blockchain denotes ownership of a physical item.
Wine NFTs are extremely new and there's a lot we don't know about how they'll unfold. Some aspects of them are certainly a little gimmicky, but that's not necessarily a bad thing. Wine NFTs can serve as a marketing tool to help reach new audiences. There are also practical advantages to wine NFTs. For example, wine NFT buyers get guarantees about provenance and authenticity.
Be aware that not all wine NFTs are asset-backed. BitWine makes wine-based NFTs that are traded on OpenSea, but there's no actual wine behind the art. However, it gets more interesting when NFTs are paired with actual bottles of wine. Some wine NFTs also come with vineyard tasting experiences, storage facilities, and other benefits. Plus, as we've seen with the hugely successful Bored Ape Yacht Club NFTs, owning certain types of NFT can make you part of a community.
Are wine NFTs a good investment?
There's a danger in viewing any type of NFT as an investment in and of itself. They are better seen as a tool. And like any tool, they can be used to produce quality or sub-standard products. For example, last year, Christie's auctioned off Beeple's Everydays NFT for $69 million. The NFT craze contributed to that high price. But it was the art itself, the artist behind it, and the auction house that made it valuable, not the fact that it was an NFT. It is the same with wine — the NFT is only as good as the product and people behind it.
Our top crypto play isn't a token – Here's why
We've found one company that's positioned itself perfectly as a long-term picks-and-shovels solution for the broader crypto market — Bitcoin, Dogecoin, and all the others. In fact, you've probably used this company's technology in the past few days, even if you've never had an account or even heard of the company before. That's how prevalent it's become.
Sign up today for Stock Advisor and get access to our exclusive report where you can get the full scoop on this company and its upside as a long-term investment. Learn more and get started today with a special new member discount.
The big benefit of using NFTs in the wine industry is that it can build confidence. Tampering and forgery is a big issue for wine buyers. According to a report from the European Union Intellectual Property Office, fake wine and spirits cost the industry over $3 billion a year. Using the blockchain to track each step in the supply chain can give guarantees of provenance.
That said, the NFT industry is not immune to fraud. For example, asset-backed NFTs aren't always backed up by the physical item as promised. Plus, criminals are always looking for ways to get around anti-counterfeit measures. It's only when they succeed that we discover cracks in what seemed like a perfect system.
There are some interesting ideas in development, such as using chips in corks or QR codes to prove an item is the real deal. Just be aware that people sometimes believe the magic of blockchain can solve any problem. It isn't true — and until these solutions have been road-tested, we shouldn't assume they're hack-proof.
Bottom line
Like a fine wine, it may be that we need to give wine NFTs time to mature. We need to see how well they work as a mark of authenticity, and how some of these first-to-market wine NFTs play out. NFT marketplaces are becoming increasingly accessible in terms of payment methods and usability, but it's early days for the platforms and the products.
Moreover, wine investing itself carries risk and requires skill and knowledge even before you throw NFTs into the mix. If you're not already familiar with wine as an investment, don't jump in just because it's attached to an NFT. A wine NFT may be a good investment if it is backed by a good quality wine. But if you're not a connoisseur, you could just as easily buy a dud that quickly loses value.
Earn a $50 bitcoin bonus
Our updated list of the best cryptocurrency apps for 2022 is packed with best-in-class picks. The cryptocurrency apps that landed on our shortlist include perks such as $0 commissions, and one pick that is offering a $50 bitcoin bonus. Check out the list here and get started on your crypto journey, today.